Connect
COVID-19 Alert
Due to the ongoing COVID-19 pandemic, some GRCA programs and services are suspended or operating in a limited capacity at this time. Data will be added to the charts on this page as it becomes available.
---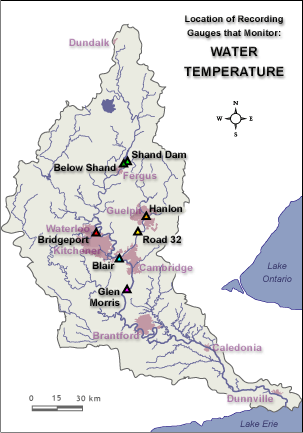 Water temperature can have an adverse effect on water quality and the water's ability to hold dissolved oxygen. As water warms, it has a reduced ability to retain oxygen.
Provisional Data
Caution: Users of the GRCA's real-time data are cautioned to consider the provisional nature of the information before using it for decisions that concern personal or public safety or the conduct of business.

The Grand River Conservation Authority assumes no responsibility for the correctness of the information contained in this website nor liability to any user of such information, regardless of the purpose.
Warning! River levels and flows can change rapidly.