Connect
COVID-19 Alert
Due to the ongoing COVID-19 pandemic, some GRCA programs and services are suspended or operating in a limited capacity at this time. Data will be added to the charts on this page as it becomes available.
---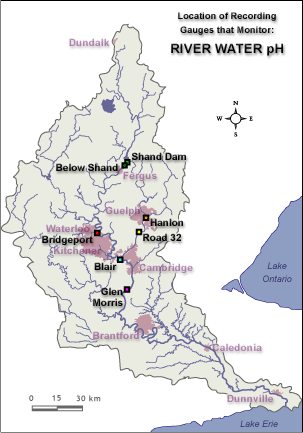 The pH factor is a measure of the acidity or alkalinity (basic) of water. The usual pH range of water is from 0 to 14. A pH value of 7 indicates a neutral solution, meaning water is neither acidic or basic. Values below 7 indicate a more acidic solution, while values above 7 indicate a more alkaline solution.
The fluctuations in acidity in the river over a given day are the result of plant processes going on in the river. Limestone bedrock found throughout the Grand River watershed buffers the acidity of the water and tends to cause river water to be more basic, rather than acidic.
Provisional Data