Connect
COVID-19 Alert
Due to the ongoing COVID-19 pandemic, some GRCA programs and services are suspended or operating in a limited capacity at this time. Data will be added to the charts on this page as it becomes available.
---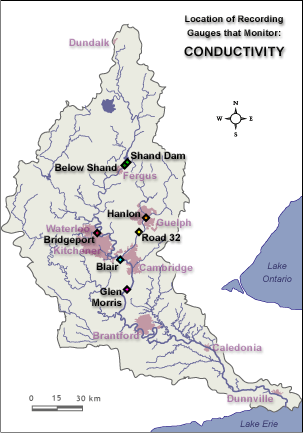 Water conductivity measures the water's ability to carry an electric current, and is related to the total dissolved salts or ions in the water. In the Grand River and its tributaries, chloride is generally the ion that influences conductivity the most.
What can influence conductivity
Large fluctuations in conductivity can occur after a snow melt due to road salt (chloride) being carried into the river.
Water softener salt (also chloride) can pass through wastewater treatment plants and enter waterways.
Effects of chloride on aquatic life
It is important to note that conductivity data is not a measurement of how much chloride is in our waterways, but rather, it's an indicator that chloride is likely present.
Chloride levels that consistently exceed 120 mg/L can negatively impact aquatic life. Chloride levels that consistently exceed 640 mg/L are acutely harmful. Right now, chloride levels in the watershed are not consistently over these thresholds, but there is an increasing trend at some locations.
Provisional Data
Caution: Users of the GRCA's real-time data are cautioned to consider the provisional nature of the information before using it for decisions that concern personal or public safety or the conduct of business.

The Grand River Conservation Authority assumes no responsibility for the correctness of the information contained in this website nor liability to any user of such information, regardless of the purpose.
Warning! River levels and flows can change rapidly.