Connect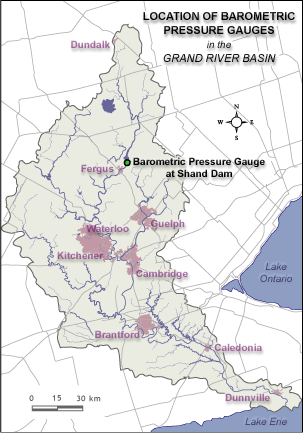 Barometric pressure is a very significant parameter in weather observations, as the movement of pressure fronts indicates the movement of differing air masses. Air masses either have centres of low or high pressure. Standard air pressure is 1013 millibars or 101.3 kPa.
Air masses with a center of high pressure are associated with fair weather. Air masses with low pressure at their center are associated with inclement weather. As air masses move through an area, air pressure will fluctuate, upwards for a high pressure system, downwards for a low pressure system, signalling a change in weather patterns. By tracking barometric pressure one can determine when new weather systems will enter the area.
A rapid decrease in barometric pressure, signals a strong low pressure system entering the area. With a sharp change in air pressure intense thunderstorms often occur. By measuring and trending barometric pressure, the Grand River Conservation Authority can gain valuable lead time to prepare for the possible rainfall.
Provisional Data