Connect
Important Note
Speed River at Edinburgh Road – Bronte Construction, on behalf of the GRCA, will be carrying out rehabilitation work on the weir in the Speed River, downstream of Edinburgh Road.
This weir provides stable water levels for the Edinburgh Road river gauge located upstream. This work will take approximately four weeks, beginning September 20, 2021.
The planned work will seal leakage under the weir to improve integrity and function of the installation. Boards which control water levels at the weir will be removed resulting in lower levels in the river during the work.
The gauge will still record water levels while the work is underway, however flow rate will not be displayed during this period.
Critical flows
Critical flows table: This chart will help you understand the significance of various flows levels. The chart shows the name of the gauge, the affected communities and various flow levels along with the significance of that flow level. Flows are measured in cubic metres per second, i.e. the amount of water flowing past a spot in one second.
Gauge (Community)
Flow (m3/s)
Significance
Armstrong Mills
0.6
Normal summer low flow
Edinburgh Rd. (Guelph)
1.7
Normal summer low flow
50
Black Bridge Rd. flooded
255
Channel capacity
Road 32 (Guelph/Eramosa)
2
Normal summer low flow
Beaverdale Rd. (Cambridge)
3.5
Normal summer low flow
50
Mill Run Trail closed under 401
50
Riverside Park flooded
Eramosa River at Watson Rd (Puslinch)
0.9
Normal summer low flow
Location of flow gauges on the Speed and Eramosa rivers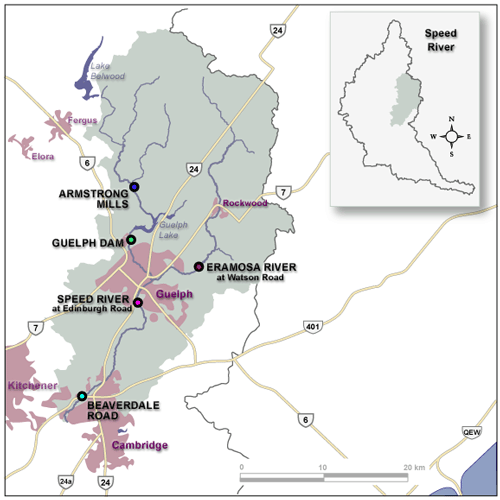 Provisional Data